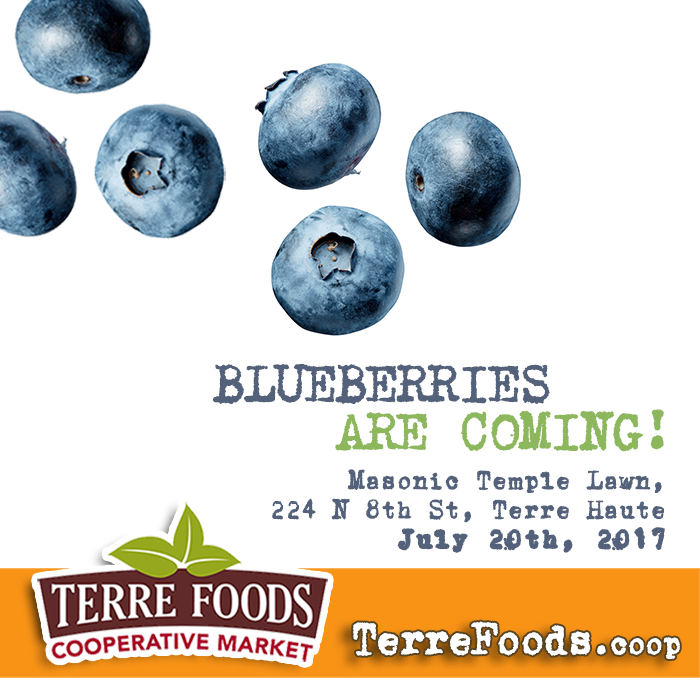 Time/Date: July 20th, 2017, 11:00 a.m.- 7:00 p.m.
Location: Masonic Temple located at 8th and Larry Bird Ave.
Price: (Free and Open to the Public)
$5.00 for a blueberry sundae with compote and/ or fresh blueberries.
$40.00 for a 10 lb box if a member
$50.00 for a 10 lb box if not a member.
Vendors (Terre Foods Members):
Harvest Bakery- Breads, and sweet treats
Appleseed Farms- Pies
The Pickery- Local, Organic produce
abunchofbags- woven scarves and bags
Yellow House Honey- blueberry bushes and honey
doTERRA- essential oils.
Two food vendors during the lunch period:
Petty Pit Stop
Wildflour Bakery and Catering
Performance schedule:
11-11:45am: PapaPatty
12-12:45pm: Coon Holler Kids
1-1:45pm: Bear Foote Jackson
2-2:45pm: Tom Roznowski
3-3:45pm: Sarah Nation
4-4:45pm: Brent McPike and Solly Burton
5-5:45pm: Dangerous Doug
6-6:45pm: Joe Wright